Looking to pursue a career out of dolling people up or simply enjoy making people look great and thus, feel great too?! You're in the right place and at the right time too! The Beauty Makeup Program at the SMA Makeup Academy, the best makeup academy in India, is just the perfect course to kickstart your career in the field of makeup artistry. 
What you can expect from the beginner course?
This beginner-level programme begins on May 15, 2023, and will take you from basic techniques applied by the best makeup professionals globally. Covering all the essential makeup artistry practices, you will go through an in–depth step-by-step, module-by-module session on all features of beauty including learning about skin types to stylish makeup techniques.  This basic makeup course will fortify your base in making makeup artistry a lucrative career for yourself. This course is designed to train you on facial shape analysis, face charts, face sculpting, and a thorough understanding and use of all those myriad makeup kits bursting with colour that you see makeup pros juggling around.  
Introduction to Makeup Artistry
In the starting chapters towards becoming a professional makeup artist, you will need to be trained in how to identify and understand your client's skin type/shade and undertone. This is where as a professional makeup artist you need to first understand in depth the human skin and colour theory. 
After understanding the colour wheel and all the functions we can do and create as makeup artists. Next, you will move into the chapters about what products and tools to use correctly in order to achieve the perfect base for your client's skin. 
The following subjects in this program will be covered:
Skin prepping:

Identifying, cleansing, primers, and choosing the right products according to the client's skin type.

Colour correcting:

purpose, colour theory, textures, products knowledge, application techniques 

Concealing:

Purpose, common areas, choosing the right shade, textures, product knowledge, application techniques 
Foundation: product knowledge, textures, how to choose the right foundation, finishings, application techniques, product knowledge, and tool knowledge.
 COURSE MODULE
This course will take you through every aspect of makeup artistry step by step starting from the basic fundamental principles of makeup to various makeup techniques.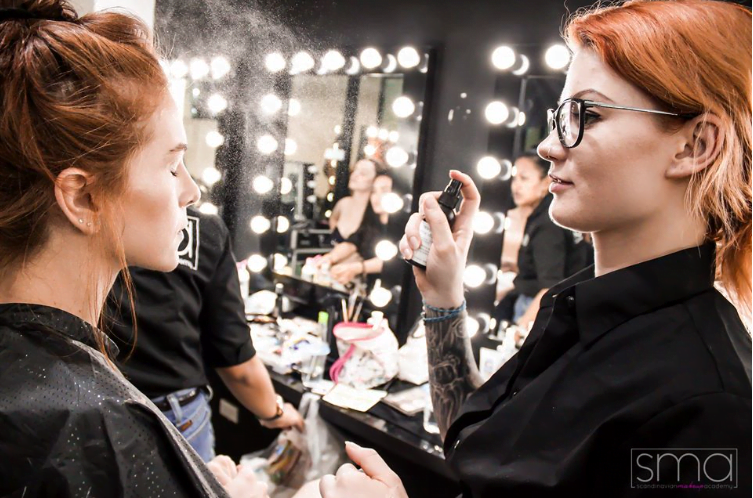 Skin types/skin undertones and shades—Here, you'll be taught about skin types, skin tones and shades in detail to lay the groundwork upon which makeup artistry will be taught. 
Foundation, colour correcting, colour balance, and concealers—This may sound Greek to you now but foundation and concealers are products that create a base on the face on which then makeup is applied accordingly. A foundation, just like the name, is a product that is applied onto the face creating a layer and prepping the face for the application of makeup.  Concealer, as the name suggests is used to conceal blemishes, scars, acne marks etc on the face so as to create an even layer to master the craft of makeup artistry.
Facial shape analysis, corrective makeup, 3D face charts, face sculpting, highlight & shadows—To learn the craft of makeup artistry well, one needs to learn about the face shape and sizes of the facial bone structure before applying makeup. Face sculpting is another aspect of face study one will learn in this course. Within the scope of this beginner makeup course module is the training on corrective makeup, highlights, and shadows.
Eyebrows shaping, filing, colouring-

An important arch that defines the face is the eyebrow and more importantly its shape gives the face and eyes an instant lift. 
Corrective eyeshadow: The right eye makeup can make all the difference to your face. In this class, you'll be taught the art of applying corrective eyeshadow
Eyeliner, lip correction, and false eyelash application are tactics in makeup artistry that attempt to bring out the best of your client's features. 
Day makeup –

Here

you'll be taught looks that are best suited for day events. 1 -2 tone eyeshadow techniques, low to medium coverage.
Evening makeup—

Here you'll be taught what looks are best suited for evenings out post-sun-down. 2-4 tone eyeshadow techniques with medium to full coverage
EYES-

The most expressive aspect of our face can be dressed up in various ways. Smokey eyes and colourful smokey eyes are popular eye  looks. 
Half Cut Crease Techniques-

Here you will concentrate on eye makeup, making it more attractive depending upon the eye shapes.
Full Cut Crease techniques –

A great technique to learn for an evening glam look or day time look. Focus is mainly on  pigments and re- shaping the structure of the eye to look more glamorous.
Halo eye techniques-

Here you will how to define the eye and make the shadows look more 3 dimensional.
Makeup for mature women and Makeup for men.
Online Digital Marketing: Social Media & Smartphone photography/editing-

In this day and age, you will learn to strategize and monetise with the help of the online world. Learn the latest tricks & tips of social media such as posting attractive pictures, timing of posting, caption lines, seo friendly word, social media etiquettes, client auto question answers etc. This will help in boosting your brand and business. 
Completing this course from SMA Makeup Academy, the best makeup academy in India will be the springboard from where you can jump to higher levels and specialised courses in makeup artistry. Enrol now on www.smamakeupacademy.com or call us at+917219284904.