P4-THE MASTER MAKEUP ARTISTRY. The master makeup program is approximately 12.5 weeks long. In this program, students start their learning from the basics in makeup artistry to the advanced techniques wherein they start with beauty makeup and then transition to airbrush makeup, after which they study bridal makeup and subsequently fashion makeup and finally fantasy and creativity makeup. This program caters to those who wish to not only work for the bridal industry but also work in and get hands-on experience working with fashion designers, bloggers, stylists as well as editorial companies such as magazines, print ads, e-commerce platforms, and more. 
A strong makeup foundation
Students who undergo the Master Makeup Artistry program graduate as thoroughly professional makeup artists ready to take on any assignments that come their way. This program is all-in-one and students build a solid foundation for a professional career in makeup artistry, bridal and fashion makeup as well as fashion photography, television and film, in this program, the students are also trained in Fantasy and body paint. 
FANTASY & BODY PAINT
The fantasy makeup program is one of the most attractive and one of the most exceptional courses offered at SMA International.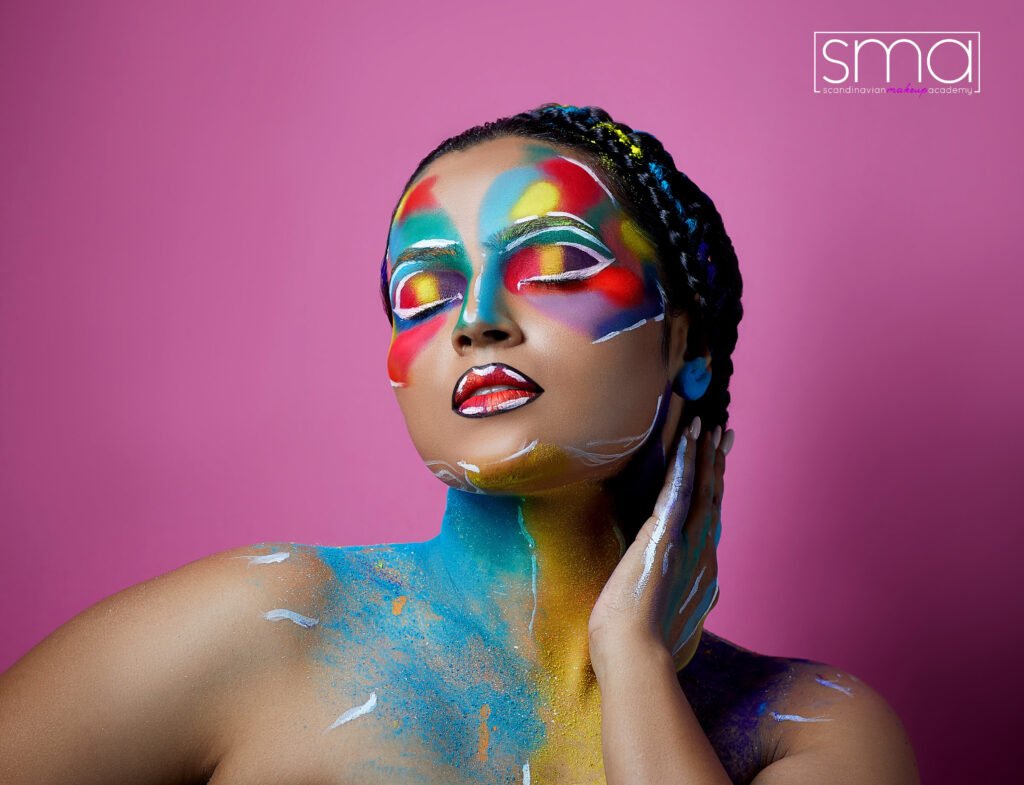 The Fantasy and Body Painting makeup course at SMA is one of the most exclusive and unique  courses  taught at  SMA International because it offers you the chance to explore your creativity to its highest potential. With people flying in from all over the world to attend it at SMA Bangkok, we are now offering the same syllabus and curriculum right here in India. The Fantasy and Body painting course is designed and created by one of SMA Makeup Academy's founders, Hilde Marie Johansen from Norway. With the aim of training our students on how to find and use the right inspiration and how to be creative, as students get deeper into this course, the students will have a complete and clear understanding of the use of products for advanced makeup practices  in face/body painting and will also be adept at  working on advanced and creative makeup tactics. This advanced makeup course is going to help you to shine as a talented makeup artist! So, do you need support and direction on how to find inspiration and how to bring your wildest ideas into reality? Then this is the exact makeup course you're looking for! This unique makeup course will blow your creative mind and take your makeup skills to new heights you never knew existed! Are you ready to push yourself?
Students opting for this program also get to do a lot of fun projects during and as their examinations. The major focus is to get the students to push their creative minds to the peak where they lose all fear of performing any kind of creative work.
BENEFITS OF THIS PROGRAM
The prime benefit of joining this program is that students can immediately start working as freelancers in the bridal industry, fashion space, editorial industry, movies and television, gaming industry and so much more. 
In this program, students are also automatically eligible for an article program valid for a year immediately after their certification which means they can repeat their subjects again any time in a year, completely free of cost. 
Another benefit of the Master's program is that all the students get to travel and get international exposure at SMA International's Bangkok Academy in Thailand, where the last seven days of their course, they will perform their final fantasy examinations and photo shoot on international models and with international photographers. This exposure helps to boost the confidence of the students, and they truly gain an international experience on an international stage. 
At the end of the Master's program, students receive international certification from the Scandinavian Makeup Academy with Professional Beauty Association Accreditation (PBA)
In addition, we also offer a hundred percent job assistance to all of our best-performing students where they receive the opportunity of undergoing training and sitting for a prestigious interview with globally known cosmetic brands such as Mac, Bobby, Brown, Sephora, Clinique, Makeup Forever, Kryolan.
At SMA Makeup Academy, we also train the students how to conduct themselves and perform successful interviews through our HR system on the side. We also have the best-performing students become a part of a PRO TEAM. The PRO team gets to perform in fashion shows and/ or do music videos on celebrities and international models through SMA INTERNATIONAL MAKEUP ACADEMY.