DISPLAY YOUR MAKEUP ARTISTRY SKILLS TO THE WORLD ON YOUTUBE! The beauty industry has undergone a substantial shift lately with the advent of social media platforms like YouTube offering new openings for makeup artists to display their skills and originality. With a strong digital presence, makeup artists can build a devoted clientele, bring in possible clients, and even make money out of their content. This blog will take you through the procedure of making a YouTube channel to showcase your body of work as a makeup artist, delivering effective understandings and best practices explicitly tailored for makeup industry professionals.

MARKETING YOURSELF DIGITALLY!
In today's day and age, one cannot stress enough the importance of a YouTube channel for makeup artists. Here we take you through a step-by-step guide on how to build a strong online presence. From the development of your channel and evolving a personal brand to creating high-quality content and interacting with your audience, we will cover all the important features of creating and growing a successful makeup artist YouTube channel.
Whether you are an experienced makeup artist looking to increase your reach or an ambitious professional just starting out in the industry, this all-inclusive manual will equip you with the required knowledge and gear to efficiently display your work and increase your online presence on YouTube.
Planning Your Makeup Artist YouTube Channel
Before you delve headlong into creating your YouTube channel, it's crucial to have a clear strategy in place to assure long-term success. A well-thought-out strategy will not just help you stay on course with your goals but also make it simpler for you to generate appropriate and appealing content for your target audience. Here are some chief factors  to ponder upon  when strstegising  your makeup artist YouTube channel: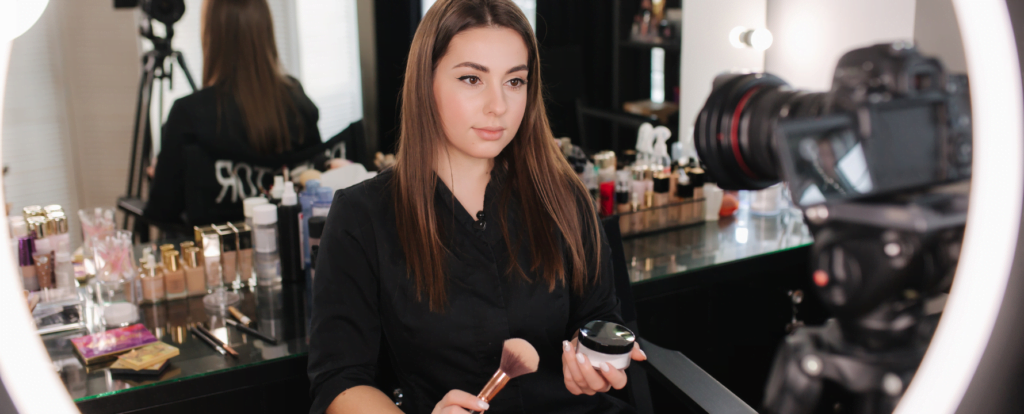 Chalking out your target audience

 
Comprehending your target audience is vital in modifying your content and involving viewers on a deeper level. Ponder on aspects such as age, makeup skill level, gender and personal liking when identifying your audience. This will help you produce content that caters to their specific wants and benefits, thus growing viewer interaction and maintenance.
Classifying your exceptional selling points
To stand out from the competition of beauty content creators, you need to categorize what makes you different from the others. It could be a specific makeup style, an emphasis on certain products or practices, or even your disposition and manner of teaching. Stressing on your unique selling points will help you entice viewers who have similar interests and are on the same page with your content.
Defining your goals and major markers
Creating clear goals and marks for your channel is important for trailing your progress and upholding motivation. These can comprise the number of subscribers, views, or video uploads you intend to attain within a definite time frame. Remember that these goals should be genuine, attainable, and quantifiable to ensure that you stay on track and dedicated to your channel's evolution.
Once you have a sturdy strategy in place, you can move ahead with creating your channel, filtering your brand identity, and fashioning high-quality content that displays your work as a makeup artist. Remember that developing a successful YouTube channel takes time and commitment, so be ready to devote your energy and resources to the progression.
Fashioning a Strong Channel Identity
A distinguishing and consistent channel identity is important to creating an unforgettable mark on YouTube and creating a loyal following. Here are some indispensable factors to reflect on when crafting your makeup artist channel's character:
Selecting a channel name and logo

 
Your channel name should be exclusive, notable, and an extension of your personal brand as a makeup artist. Consider integrating your own name, makeup-associated terms, or a creative play on words that represent your style and knowledge. Moreover, craft a professional logo that lines up with your brand's artistic appeal, using consistent colours , typefaces, and graphics. Your logo will be an important element of your channel's pictorial identity, appearing everywhere from on your channel banner, video thumbnails, and other advertising  materials.
Evolving your personal brand

 
Your personal brand is a depiction of who you are as a makeup artist and what you have to offer. It should include your unique selling points, your standards, and your character. To grow a strong personal brand, think about your fortes, your signature makeup style, and the message you want to send to your audience. Steadily integrate these fundamentals into your text, performance, and engagements with your audience, both on YouTube and other digital platforms.
By making a strong channel identity that shows your inimitable skills and style, you'll be better placed to entice and hold on to viewers who relate to your content. This groundwork will serve as a launching pad for the rise and success of your makeup artist YouTube channel.
High-Quality Content is a must
The core of any successful YouTube channel lies in its content. As a makeup artist, you have a treasure of creative potential at your fingertips. Fabricating high-quality, appealing content is crucial to structuring and preserving an audience. Here are some tricks to creating  exclusive  content as a makeup artist:
Types of content for makeup artists
Tutorials and how-to's:

Share your knowledge by creating lessons for various makeup looks, best practices, and skills. Cater to your audience's interests and requirements, and consider generating seasonal or trend-based looks.

Product reviews and recommendations:

Offer your inputs on the latest makeup products, likening their performance, value, and aptness to different skin types or preferences. 

Question & Answers sessions and live streams:

Participate with your audience by holding Q&A sessions or live-streaming makeup demonstrations. 

Collaborations with other creators:

Associate with fellow makeup artists, makeup influencers, or other content creators to enlarge your reach, brainstorm ideas, and bring fresh viewpoints to your channel.
Filming and editing tips
Invest in a good-quality camera and striking setup

to ensure your videos are visually attractive and professional. 

Pay attention to your backdrop and general background

. A clean, clutter-free and artistically pleasing setting can improve the viewer experience and showcase your professionalism.

Plan your video content in advance

, counting any props, tools, or makeup products you'll require. 

Edit your videos

to fashion a refined and charming final product.
By creating high-quality, engaging content custom-made to your audience's interests, you'll be well on your way to generating a loyal following and displaying your work as a makeup artist on YouTube!