DR RITA VERMA-THE FORCE BEHIND SMA MAKEUP ACADEMY INDIA. Women empowerment has slowly and surely risen to be a strong cause in India as more and more women wish to have an identity of their own, income of their own, financial stability and independence. 
 In today's times, women are striving to carve their own identity, be in control of their own hard-earned income and identity. But owing to the lack of as much exposure as their male counterparts and for the want of affordability, several skilled and able Indian makeup artists are unfortunately not  at par with the kind of expertise that international or global standards expect. 
INVESTING IN THE BEAUTY INDUSTRY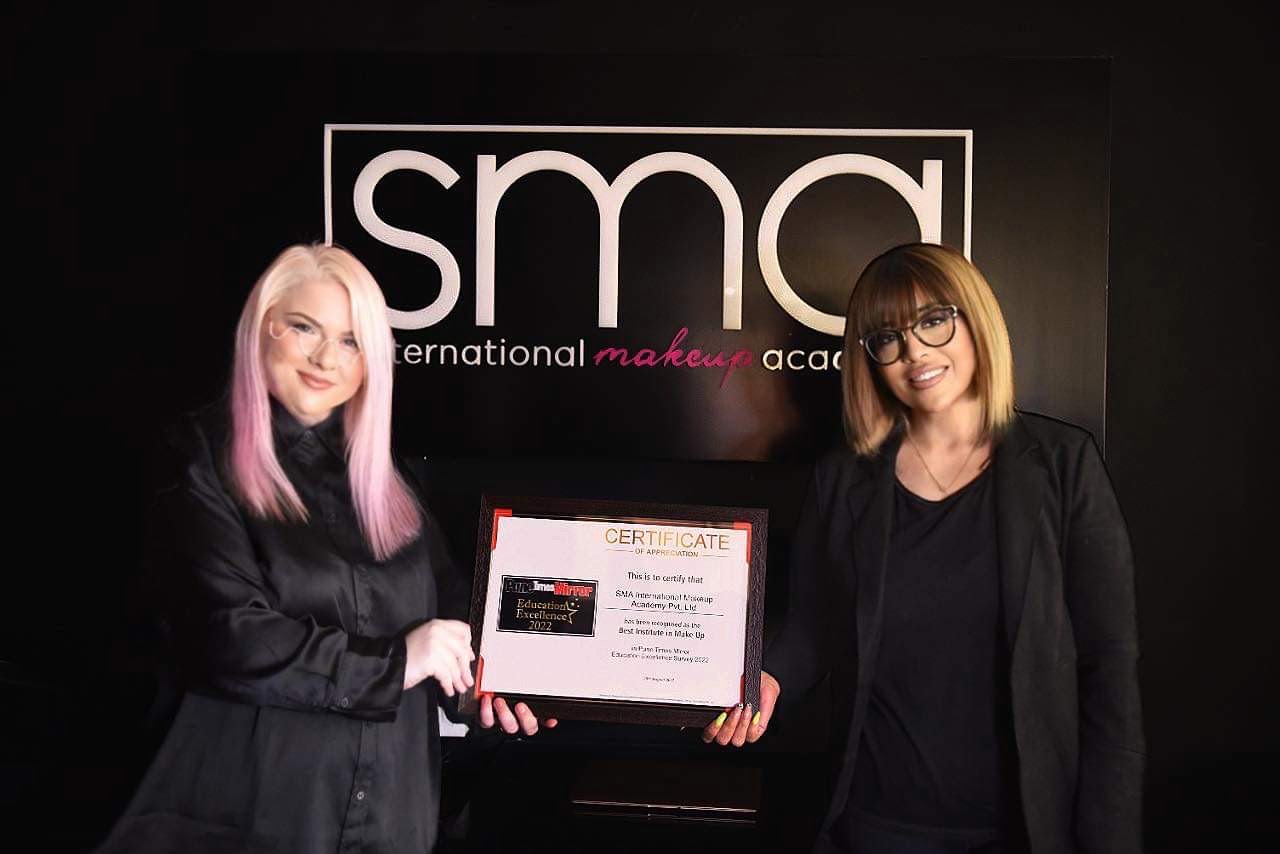 It is a well-known fact that the beauty and fashion space is growing by leaps and bounds globally as well as in Asia. Our investments; emotional, financial and otherwise are exponential in the wedding industry, the film, television and advertising industry has been dominated by male make-up artists. This needed to be changed and the seed of change had taken root so deeply in Dr. Rita Verma's conscience that when she came to India over 15 years ago, this matter of dominance of one gender in the makeup artistry field surfaced again and was further fortified by the fact that experienced makeup artists were not as prepared in technicalities as they were chiefly getting trained by individual makeup artists. 
KEEPING UP WITH THE EVER EVOLVING BEAUTY INDUSTRY 
She found they were lacking in the development of their own individual creative skills, especially in the space of bridal, Tv & film. Editorial makeup was primarily done by  expensive makeup artists flown in from abroad that only huge companies could afford to pay because of the lack of knowledge of editorial or commercial makeup was less in the local and national markets.  Armed with the noble vision and aim to embolden women, she decided to partner with noted global makeup artists, Eva B. Thomsen and Hilde M. Johansen who together could facilitate this much-needed change in the industry.
 And thus Scandinavian Makeup Academy was born fuelled by the ardent wish to motivate and ensure Indian students were more confident and had international exposure on home turf. Over the years, SMA has become more than an educational space,  it's become  home and a  family that students call their own.
SMA'S VISION – WOMEN EMPOWERMENT
According to Dr. Rita Verma , the biggest challenge for makeup artists in today's day and age is sustaining clients, clinching a good deal and earning a regular monthly income. 
Dr. Rita Verma derives her inspiration from Lisa Eldridge, Pat McGrath and Wayne Goss. Lisa Eldridge, because she is exceptional in her skills in beauty makeup, fresh, clean and easy is what I love about her looks. Pat McGrath for her accomplishments in fashion ramp looks, and her amazing products. I love the simplicity of the use of coolers and the focus on one element of color. Last but far from least, Dr. Verma's inspiration is Wayne Goss who is the master of shading and contouring and is totally revolutionary in sharpening features. 
Verma adds, "Three current makeup trends that are on point are dewy skin makeup for weddings, up your game with neon liners for parties and ombré nude shade lips for work and corporate wear. These serve as a great illusion for a fuller lip look! Trends that get her thumbs down are the matte finish as it doesn't suit every skin type, colorful eye makeup for weddings which are definitely not suitable for every bride style and  looks old fashioned and lastly, over exaggerated eyelashes.
Signing off, Dr. Rita leaves us with her sage wisdom, saying, "Today's makeup artists are extremely well-informed about creating trending looks and techniques. The makeup industry especially in India has grown so vast and offers many opportunities to new and budding makeup artists. Our Indian fashion industry is one of the most globally attractive industries known for Indian art, vibrant colours and wonderful tradition.
 Using these factors our makeup industry needs to present their  A game at all times. Today's makeup artists require the right knowledge in skills, technicalities and applications that are followed worldwide. It's not just about the bridal industry but also about the fashion and movie industry as well."
Currently, the options are numerous for makeup artists as they have the choice of working even for the gaming industry or video game coverage shows and conventions. "Makeup artists these days need to keep their egos aside, as this is a growing industry, rates are not at the highest, shows can get messy sometimes, hours are long, but the opportunity to be working with senior makeup artists is worth it. 
Lastly, my advice to all the budding makeup artists out there, There is NO excuse big enough that will stop you from supporting your dream. So, fight your fears,   push those clouds of doubt away, fight your worries and do whatever it is you need to do to get to where you want to be," signs off Dr. Rita Verma.