MAKEUP BY MARIO: THE JOURNEY OF MARIO DEDIVANOVIC At SMA INTERNATIONAL, our mission is to arm aspiring makeup artists with the right tools and training to excel at makeup artistry and build a thriving career in makeup.  Makeup is an extensive industry and stepping into it even with formal training can be scary.
However, it must be known here that not all makeup artists shot up to fame and glory overnight. On the contrary, most come from modest beginnings and humble backgrounds and have worked their way up taking chances and risks along the climb up.  
FROM MAKEUP FOR KARDASHIAN TO MAKEUP BY MARIO
One such famous makeup artist who shone through all his trials and tribulations to become a makeup artist is Mario Dedivanovic, most renowned for his work with Kim Kardashian West who has been and will always be his muse. They grew together in the beauty industry by being loyal to each other for almost two decades. 
Kardashian West has expressed her strong conviction and her association with Dedivanovic and how their relationship is much closer than simply that of a client and makeup artist. 
CLIMBING HIS WAY UP ONE MAKEUP STROKE AT  A TIME
Even though Dedivanovic constructed his career with Kardashian West, he's been through many crests and troughs for the past decade-plus years.  It wasn't always a rewarding journey. In fact, Dedivanovic faced a lot of difficulties at the onset of his career. 
MARIO'S FORAY INTO THE BEAUTY INDUSTRY 
Two decades ago, Dedivanovic started his journey into makeup artistry while working at the fragrance counter in a Sephora store. In between assisting shoppers with foundation swatches and lipstick ranges, he imagined having his own line of cosmetics on display on the beauty retailer's shelves one day.
 A customer asked him to select  a shade of a lip color for them  and this interaction was his "Eureka!" moment and he instantly knew this was what he wanted to do.
After creating a portfolio of experience, Dedivanovic quit his retail position and began working as a full-time makeup artist. "I told myself, 'This is it. You have no other choice. You cannot go back, you have to make this work," he recalls.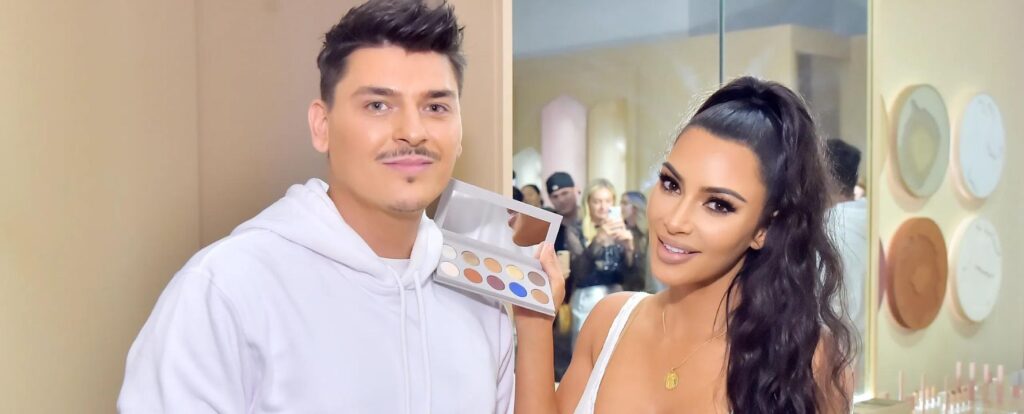 Regrettably, his conventional Albanian family firmly condemned his curiosity in makeup and wanted him to study and get a college degree. However, he saved makeup in an old show box in his closet, using it only when he was sure no one was present. 
One night, his box was exposed and after seeing his family's displeasure, he ran away. It is because of this, Dedivanovic stalwartly inspires people to be themselves and not worry if there is a reaction. One must embrace their true selves.
From here, Dedivanovic began working for a small set of high-profile clients and a weekend show at Fox News.
As a guest in a James Charles video, he recollects an unpleasant experience, where a man pushed him away, refusing to have his makeup applied by a man. He swore to never apply makeup on a man again and he seemingly stuck to his vow.
And then one fine day, a photographer friend asked Dedivanovic to apply makeup to an up-and-coming reality star named Kim Kardashian. Believe it or not, it was an invitation that Dedivanovic had nearly declined!
After his makeup application, Kardashian was awe-struck and continued to book him. This association lasted over a decade. As Kardashian's fame cultivated, she and Dedivanovic uploaded a YouTube video that presented to viewers the secret behind her look—the contour and highlight. This trend went viral and along with it Dedivanovic's career.
Wishes of more lessons fell into his Instagram account and he decided to start the Masterclass. At first, only seating 16 attendees, it now seats hundreds of people keen on learning the MakeupbyMario magic!
2020 marked Mario Dedivanovic's 20th year as a professional makeup artist and to commemorate his 20th anniversary, he's celebrated in a major way with the launch of his luxury cosmetics brand Makeup by Mario.  And just as he had manifested as a young employee in Sephora, today, Makeup by Mario products are available exclusively in Sephora stores and online at sephora.ca, as well as makeupbymario.com.
It takes a lot of hard work, no doubt but with commitment and sound intuition, you can become a great makeup artist too. It's all about following your passion and your dreams and believing in yourself.