YOU CAN DO IT! TIPS TO BECOMING AN ACE MAKEUP ARTIST. Join this creative and inspiring community that will allow you to work close to people and boost your clients self esteem! There is no  job that is more giving than this; to make people feel great and confident for every occasion. A makeup  artist is almost like a magician in the sense of how they  can transform or bring out the best features in others. Work in the thick of colours and brushes with  human as canvases, and more importantly, realise your dream to make people look good! Apart from the hard work of being on your toes for long hours, you get to experiment with beauty trends all day long creating different looks and working in an exciting fast–paced environment! However, a makeup artist's job, like every other amazing gig, is also a lot of learning, hours of practice and a lot of hard work. 
But let's do it: The first steps you'll take to realising your dream of becoming a makeup artist are:
Focus, Patience and Practice, Practice and remember to have loads of fun—-Practice will make you perfect in this profession. There are no two ways about it. Keep tying all that you're learning to your family and friends. Practice is paramount and the more you practice, the better you'll get at it. While learning from the best is critical, practicing what you've learned is crucial. Get as much hands-on experience as possible, intern at your neighbourhood salon, work at a makeup counter. Get as much exposure as possible to different skin types, deal with various personalities, work with different age groups to gain practical experience after you are done with the academic part of learning. Servicing your customer is vital in the field of makeup artistry. Recognise what you're good at and identify what you're not good at and practice that more. Play around with different products and the tips and tricks you learned in class. Remember no one turned into Picasso overnight, it's all in your own effort to keep pushing yourself!
1. Have an inspiration! 
Research makeup masters who've come a long way- Makeup artistry, like every other subject, requires in-depth study and research. Once you know what look or what stream in makeup artistry catches your fancy, find out who has been the best at it in the past, and study their tactics and working ethos. Comprehend what you like about their work and what you'd like to adapt from them. Books, journals, magazines, websites, blogs, vlogs and photoshoot images- dig into al the material you can lay your hands on and get going! 
Has it been your lifelong dream to become a professional makeup artist? 
Undergo formal training- You want to make a career out of makeup artistry, enroll in a makeup academy, get tutored by trainers who have years of expertise behind them. There are several programs at SMA INTERNATIONAL right from beginner-level courses to advanced programs of master makeup artistry that comprises specialised makeup courses like fantasy makeup and body painting, makeup for beauty, film, television, stage and fashion. Internationally certified programs will propel you into another sphere of makeup artistry.  

Market yourself—With the advent of the Internet and digital marketing, the world of beauty has transformed tremendously. To be successful, you have to be present on digital platforms. Social media has had an enormous effect on makeup artistry. Think YouTube! Think Instagram! It's a whole new world of experiences and visual conditioning. Social media makes you stay relevant and alive in the industry. You have to showcase your work and be out there virtually to establish your mark and space as a makeup artist. This may sound like rubbish but it's not. At SMA INTERNATIONAL, we also train you on how to establish and market yourself online. It is vital to launch yourself as a brand in this industry, as well as create a regular presence in the world of social media.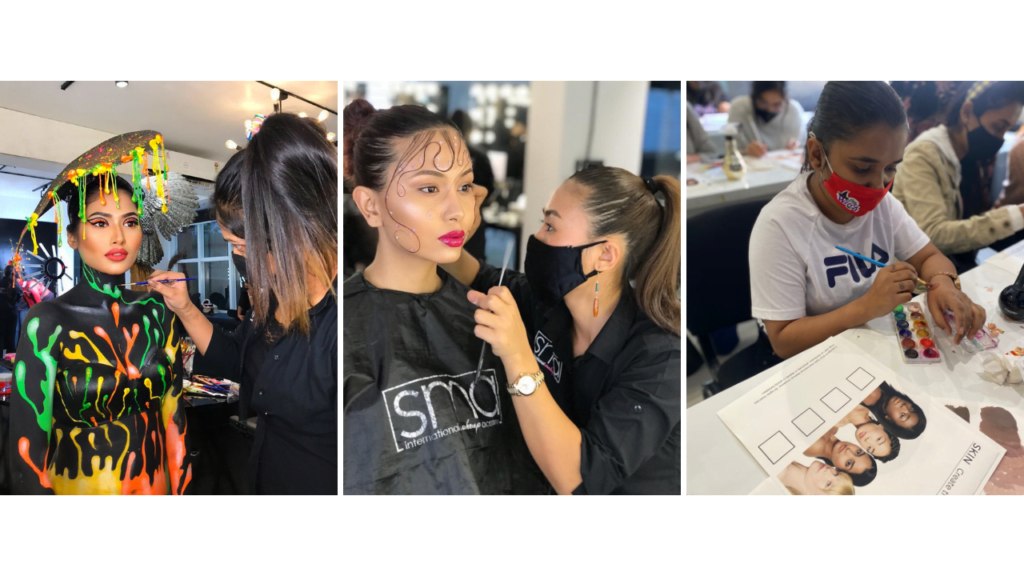 Be positive! No matter what type of clients or challenges you meet on your journey, take this as a part of the learning process. Love what you do and bring your smiling face to the work counter—No job is beneath you or too small. You never know who can be our ticket to fame so treat everyone the way you'd like to be treated.  Don't ever stop loving what you do! Heck, you make people look good for a living! Enthusiasm is crucial. Keep the passion to learn alive and express yourself through this art form!

Follow the trends! Remember you are representing the beauty industry so you must yourse have a clean and professional turn out, good attire and look for your self. Personal grooming is important when present yourself as an artist. This is  also taught  to you in Our Master Program at SMA International .

Also a tip is to wear comfortable footwear—long hours on your feet so use this tip. 

Listen to your Instructors! Absorb like a sponge every knowledge from your mentors as they come with a qualified background and experience. Be open to learning new and different things as the Beauty industry is developing so fast and is constantly changing. Don't get stuck in old methods, be open to always adjust and learn new things!
Be like Trail your mentor – They'll always have those years of experience on you, so be their little lamb!